On a daily basis, a relaxing and soothing place for meals brings about a friendly and personal conversation. What would full fill this purpose the best; the breakfast nooks are the finest idea. The décor makes it cherishable for the eaters. Tables are approachable from the kitchens. To beautify these breakfast nooks something can be kept on and beside the table. The perfect place is near a window with a shiny morning. Want a customized and stylish breakfast nook —check these in budget and modified ones; before you set one for your sweet home.
Whimsical Upholstery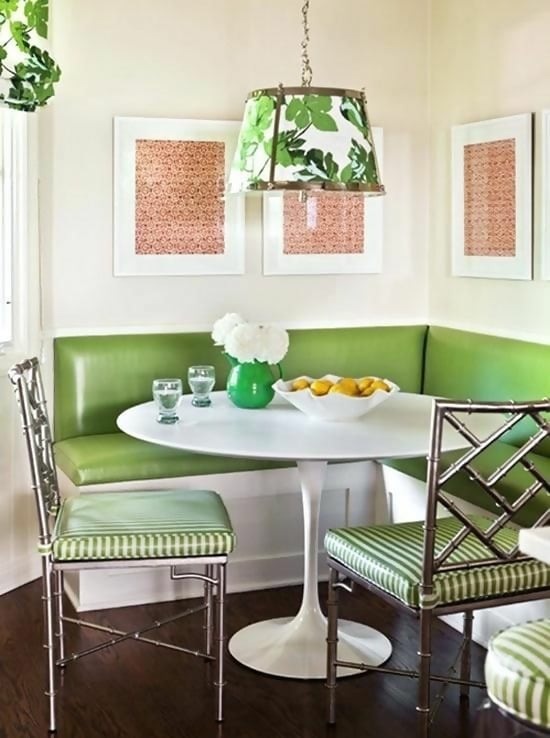 Setup the cushioning on the wall whether stripped or printed, as per the colors of interior designing. Keep table with required number of upholstered chairs along.
A couple of incredible or inspiring arts can be fixed on the wall. A rattan table centered by a glass vase would flawlessly make this breakfast nook whimsical.
Perch by a Window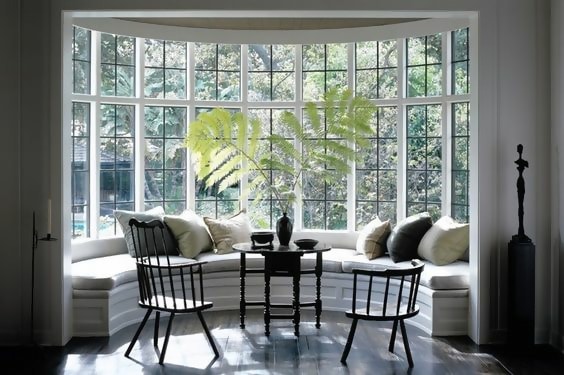 This type of breakfast nook is perfect for families. The setup can be placed along an extensive window with a comfy L-shaped sofa, loaded with soft cushions on it. For ample seating, chairs can be kept. An enlightened day would start as the morning light enters to this place. Flowers on the table add colors to it.
Carve out a Niche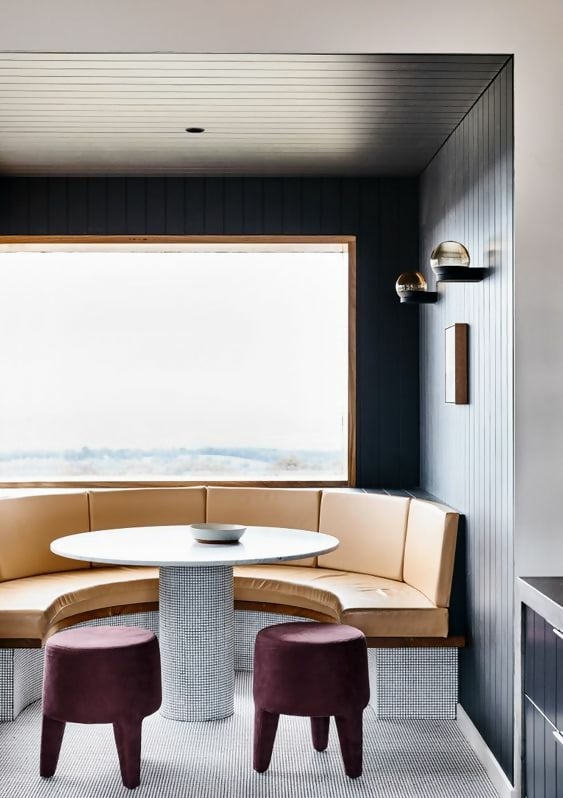 It is an amazingly simple and fascinating breakfast nook to settle. A clear round table, fixed to the floor surrounded by a curved four to five seated couches. Design purely in a banquet manner even the base. It positions an innovative technique of familiarity within the architectural décor. A set of two round shaped stools fits well too
Cozy Nook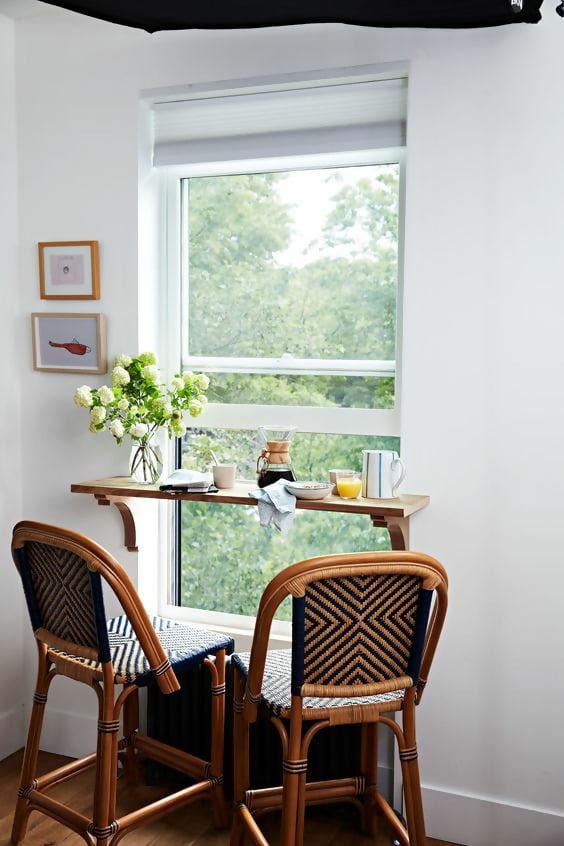 Having a small space? Or no space? Not an issue anymore. Trend one for you within your room by the window or in any small area. You can keep your most comfy seats. Put some cushions along and spot it to enjoy your morning tea or coffee. An appealing decoration piece will make it eye catching.
Double The Seating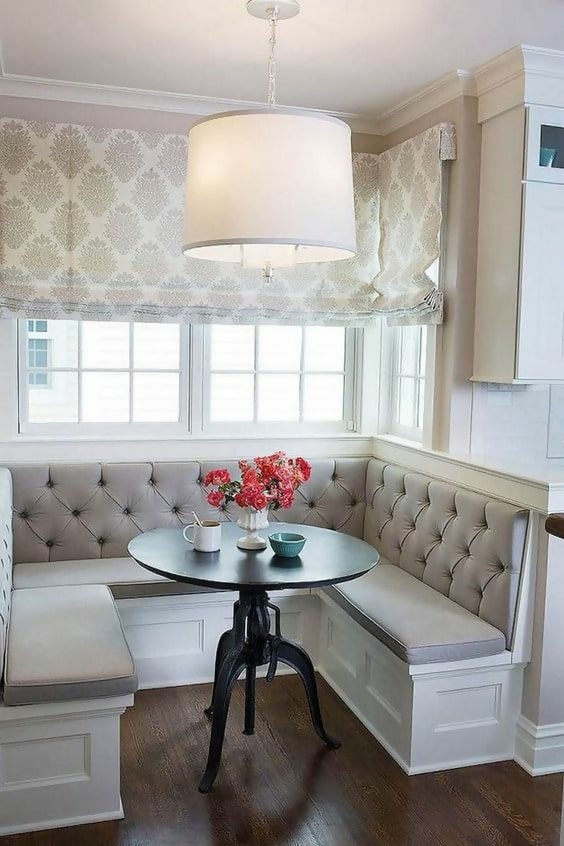 Extra space available— what to do? Make a seating with any banquette of much loved color theme. This high back double seating will be more relaxing and calming for you to prolong the conversations. Keep a pair of casual lamps on the two sides of this banquette. Arrange a wooden table in front of it and chairs (if required).
Enclosed Nook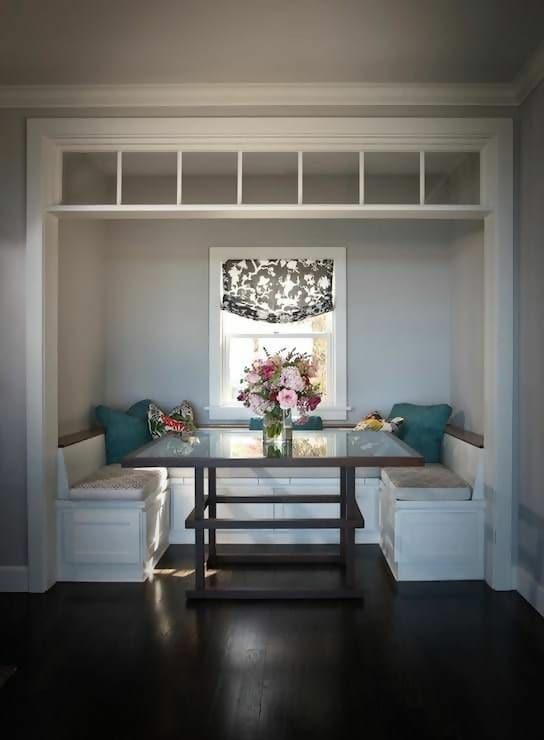 A much needed personal space, to relax, is an enclosed nook. Design it in the way you want to chat with your people i.e. for playing purposes it can be face to face with a table in between or for a group study— it can have a table attached to the wall with cozy and soft chairs. This private space can astonishingly serve many purposes at a time.
Dramatic Glam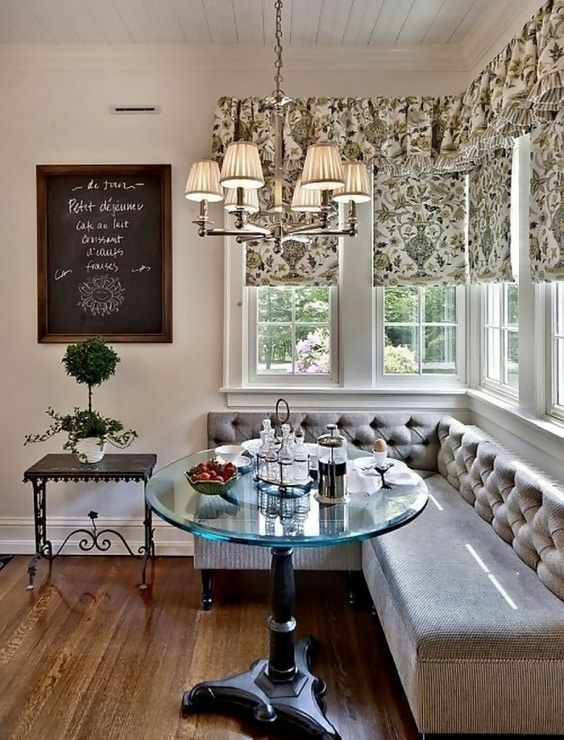 Considering a glamorous breakfast nook? Setup an elegant banquette of a little glittery cloth. The round table in the center follows the harmony with appealing colors. An essential part is the fancy chairs and a pendant light on top of the table. Curtains of certain color and choice enhance the appearance of the atmosphere.
Fun Colors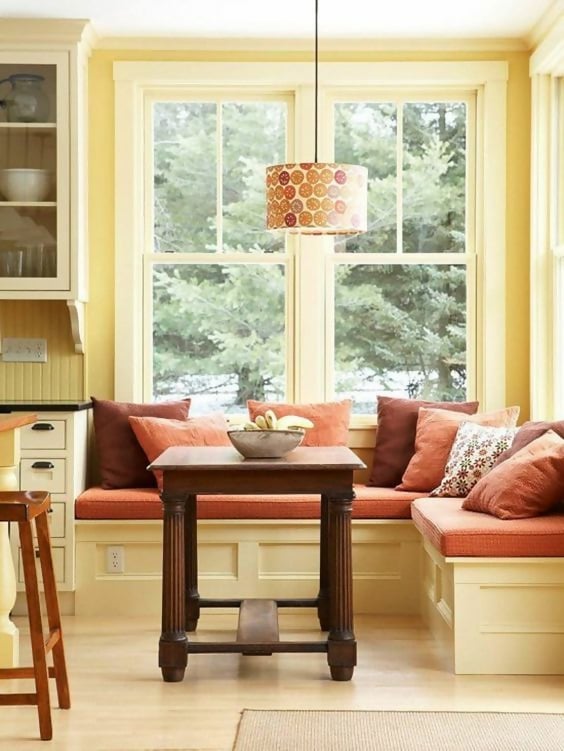 Almost all homes have kids in them; aim a friendly colored scheme with stylish cabin. This breakfast nook would attract the kids to play, spend their time and eat properly. For sitting, a plain sofa with no sharp edges can be placed. However, classy colors should be chosen in order to make it a more engaging space. Some drawings or sceneries may deliver childlike yet sophisticated look. Add rattan chairs by way of color filled cushioning. If you have a built-in banquette, make use of the space underneath for storing miscellaneous stuff like cooking range, toys or even magazines etc.
Animate With A Gallery Wall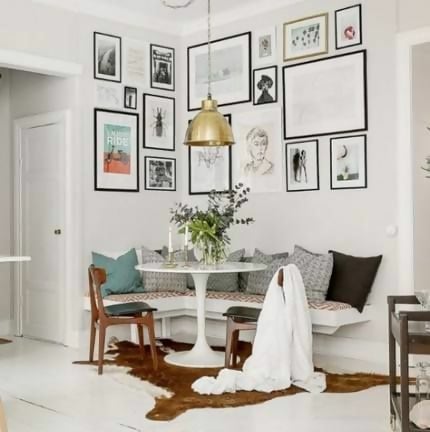 Animate a breakfast nook in a bold, colorful and inspiring manner. Load your wall by means of some gallery art ideas and make a dining nook there. It demonstrates Interior designing as an attractive and cheerful ambiance within a small space with bigger impact. Frames made up of metal or wood with unique scenes embossed in them. The frames must complement the chairs, the floor and the interior.
Frame With Glass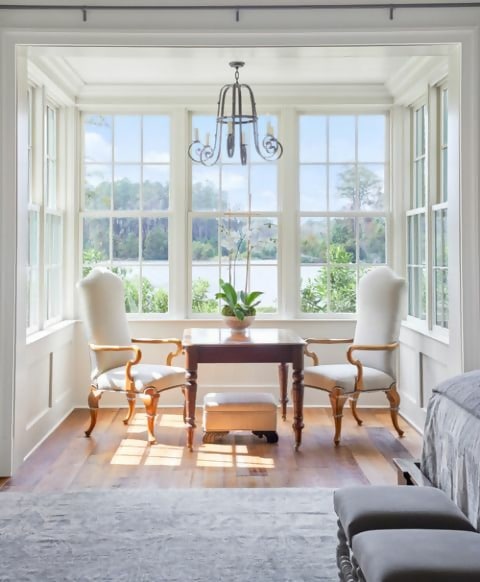 Various glass interior frames separate the dining nooks from the kitchen to avoid heat. It forms, a tiny still sufficient, booth with luxurious seating and transparent glass. The door can be arched or a causal one, while any colored sheet can enhance the exterior. Spot this one for your meals without getting disturbed. Beautify the place with the touch of the floor tiles and lighten it with classical lamps. A cabinet can be maintained for keeping daily use stuff.
Let the Light In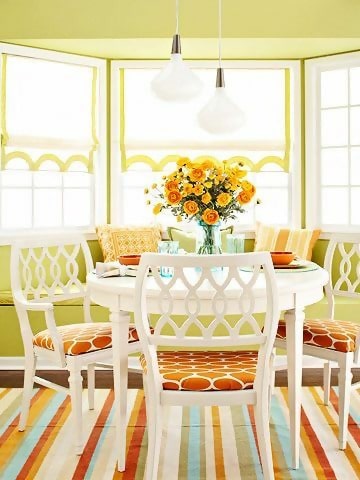 Take the full advantage of the natural lighting. Utilize the window side with a built-in banquette. The vinyl covering of the banquette makes it easy to clean and wipe the food particles. Did you know, low benches make the breakfast nook casual and accessible to all food items on the table? Try this. The two meals during the day time will improve your day in this sunnier dining nook. Let the Light enlighten your mind.
Rug Matter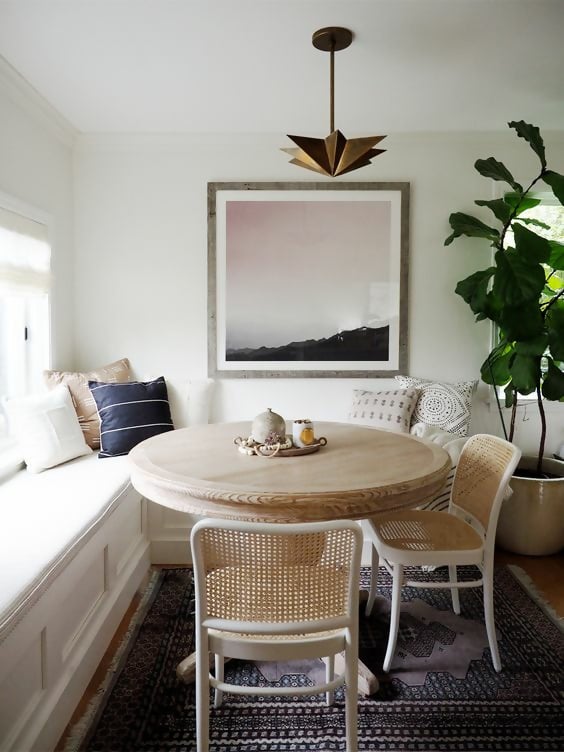 Rugs improve the overall appearance of any part of homes or hotels. Carpeting a whole room or place for initiating a breakfast nook is an enormous inspiration. It not only shapes the area but also makes it warmly for the visitors too. It is also a kid's friendly spot.
Fresh Plants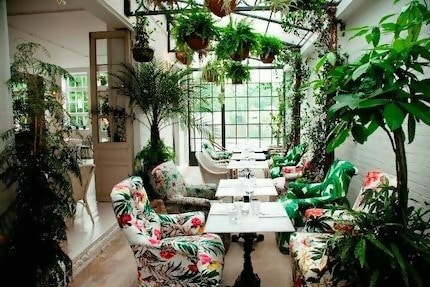 Designing an inside dining nook is common rather easy but taking it outside among the plants is a great idea as well as a change to usual breakfast nooks. Utilize your outdoor area with a pleasant and unique dining table with fresh flowers on top and fresh plants in the surrounding as well. If it's an undersized balcony, take advantage of this area with a tiny bistro table and chairs.
Different Seats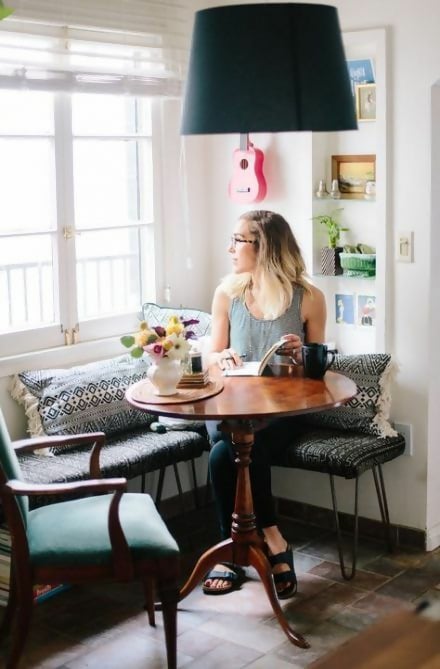 Want something really out of the world? Why not? Intend this economical dining nook. Accept this interesting fact that it is fully in your budget. Check how. All you need are the sofas, settees or even spare chairs inside your home to be adjusted in one place with various décor ideas i.e. wallpapers, fun colors, trending pendants or spot light lamps etcetera. Utilize any type of furniture not in use for this nook. Therefore, a (built-in) banquette exclusively designed for this nook is not the requirement. Creating it cozy, hospitable and illuminated is essential.
Keep It Simple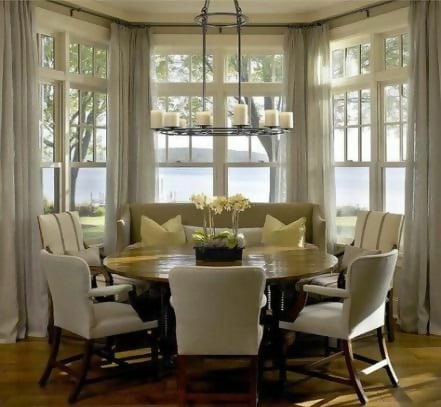 Desiring a simplest breakfast nook? So simply place a round table with six or eight chairs of wood or rattan around it. Singular color tone will finely shape the area sophisticatedly. A vase with white flowers can make it more vibrant and cool.
Airy Curtain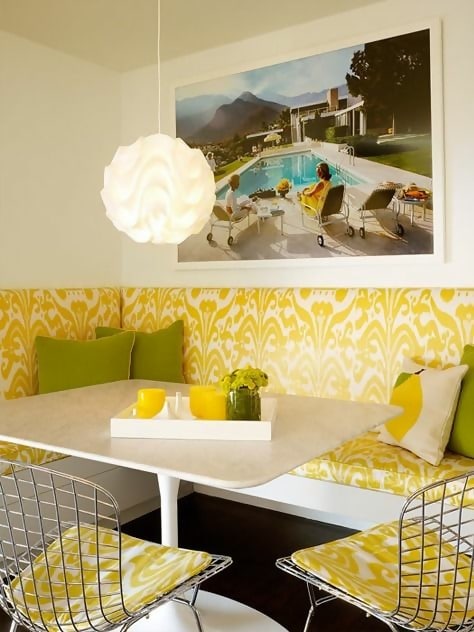 A corner along the windows catches most of the light and scenes. It makes the dining nook sunnier if the color theme is yellow with a little off white. The cushions on the banquette may possibly be of different prints or even some plain ones of similar shades. Arrange a pair of bamboo chairs and a round glass table cheered up with a basket of fresh fruits on top. During cloudy days, this place will present you a constant sight of delight while having your meals or tea snacks. Use tiles that enhance the glow of your nook, making it extra glossy green.
 Shrink Down The Nook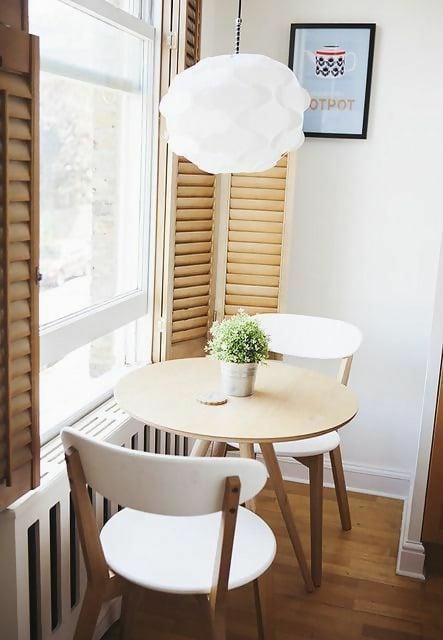 Having a flat- and want a dining nook, here is how you can adjust it in your small living. Shrink down the breakfast nook by keeping even number of chairs with a slim table sufficient for dishes and plates. Structure the nook with a crystal or wooden pendant. It can also be maintained under an airy staircase with amusing furniture.
Light-Filled Breakfast Nook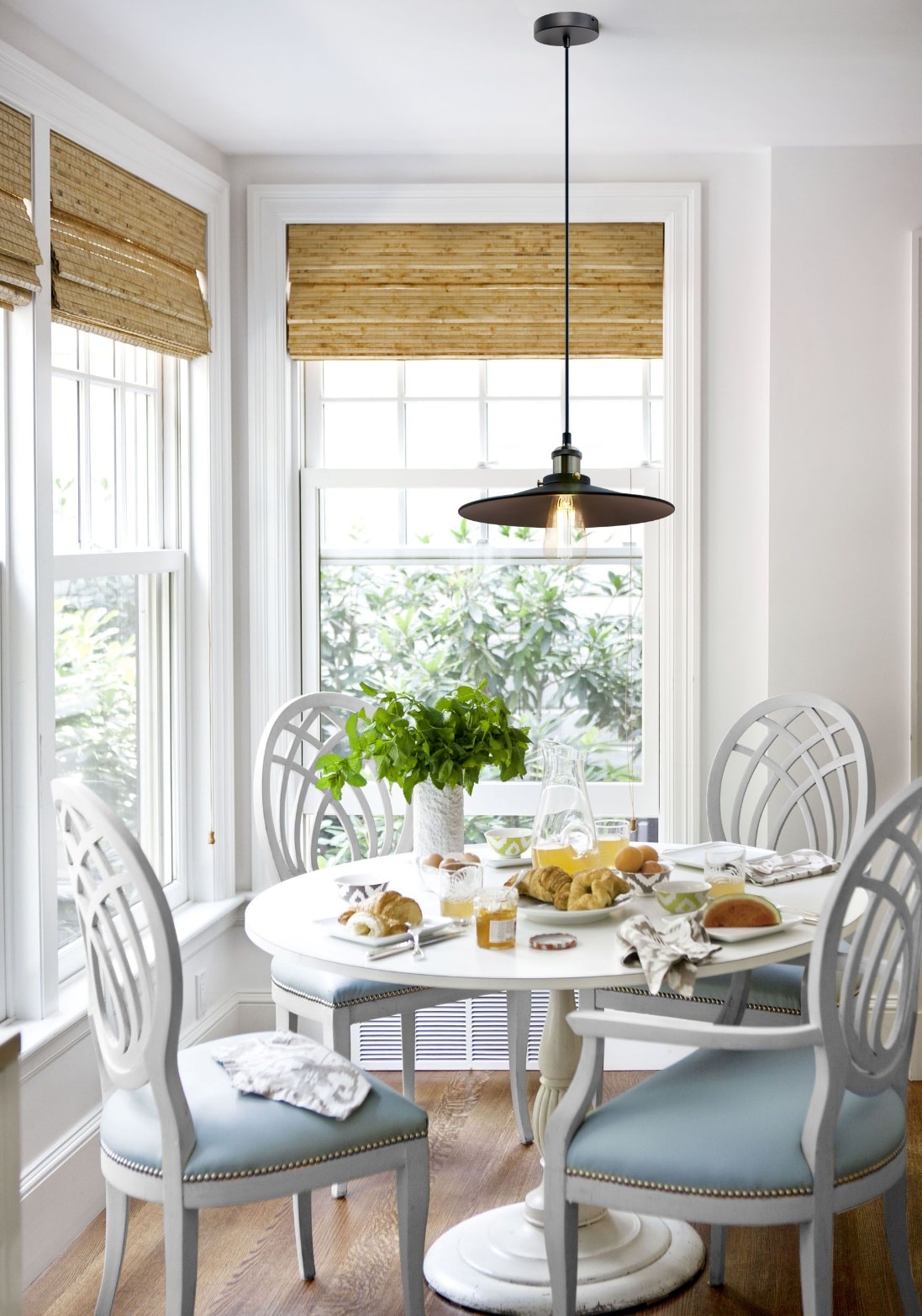 www.enutek.com
Enuotek Lighting created this space which covered but still open to light is best for spotting a light filled breakfast nook. Becomes brighten with the day light and provides moonlight at night. It allows you to get in touch with nature while staying safe under the roof. It can be either a built-in banquette or a casual one with single rectangular table and desired number of chairs. Organize it with daily newspapers on the table and some magazines while leafy and colorful plants can be kept near to the seating.
Make It Inviting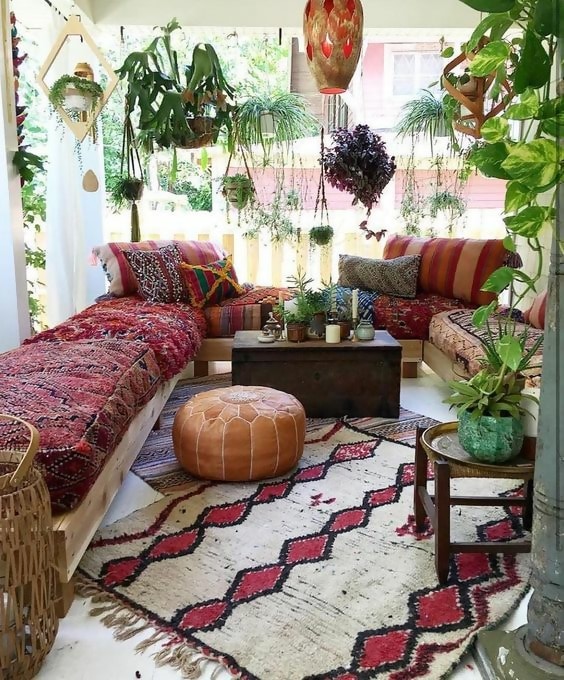 If you have guests visiting you often then make it inviting and appealing. You need adequate space inside the kitchen or spot it nearest. Get a built-in fancy divan covered with attractive prints. Choose a small table for snacks and make the spacing carpeted for a homely touch. A combo of big and small cushions on the floor for sitting and supporting the back respectively will look more welcoming and cozy.
If you're a writer like us & want to get some exposure, Feel Free to write for us on home decor Topics, We're actively looking for Contributor like you 🙂…
Read More →